"After achieving the second place in the 2023 International "Booker Prize" for Arabic Fiction… the university president congratulates the esteemed novelist, Sadiq Haj Ahmed El Ziouani."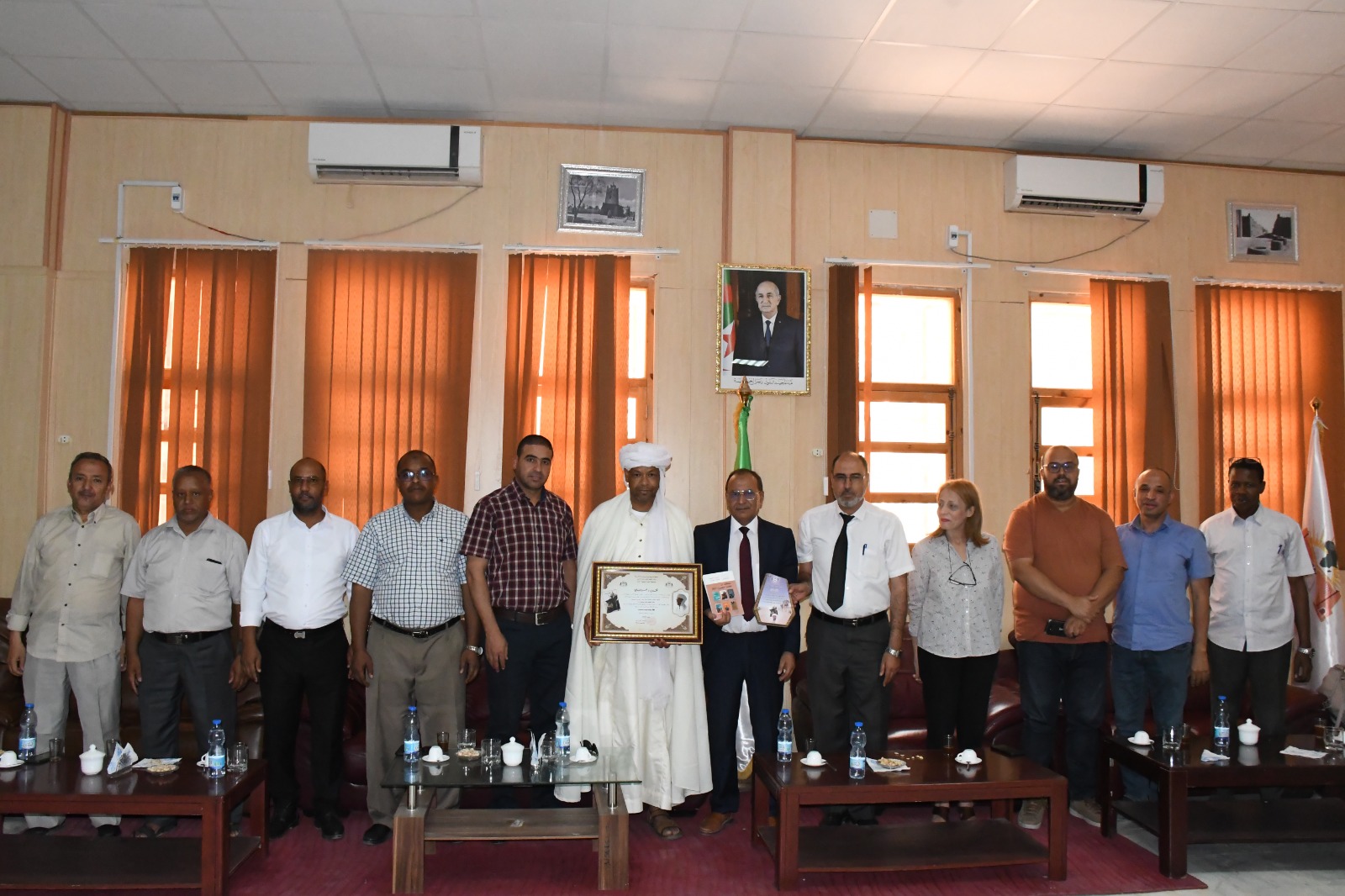 Professor Haj Ahmed El Ziouani, a renowned Algerian writer, achieved second place in the 16th edition of the International "Booker Prize" for Arabic Fiction with his novel "Menna…The Resurrection of Desert Scattering." The award ceremony took place in Abu Dhabi, the capital of the United Arab Emirates, on May 23, 2023.
Pr. Benamar Mohammed EL Amine, the President of Adrar University, along with the university staff, celebrated this outstanding achievement of Professor El Ziouani, who has elevated the name of Algeria on the global literary stage. The University President, while overseeing the honoring ceremony of the author of Menna," expressed his deep pride and admiration for Professor Haj Ahmed El Ziouani, who has brought historic success to Adrar University and raised its profile in the field of international literature and novels.
The Professor of Higher Education at the Faculty of Arts and Languages and the Director of the Desert Narratives Laboratory at the university received congratulations and well-wishes from professors, colleagues, administrative staff, and all members of the university, including students, employees, deans of faculties, and department heads. They expressed their pride, through the university's website, in the Algerian and Saharan literature reaching international recognition thanks to the esteemed writer, Haj Ahmed El Ziouani, and his exceptional literary works that emerge from the depths of the desert, conveying the values and generosity of its inhabitants.
It is worth noting that the global novel "Menna… The Resurrection of the
Desert's Scatters" achieved second place in the 2023 International Booker Prize for Short Arabic Novels. This came after competing in the final stage with six other novels from various Arab countries, including "The Stone of Happiness" by Azhar Georgees from Iraq, "Days of the Scorching Sun" by Meral El-Tahawy from Egypt, "The Higher Horizon" by Fatima Abdulhamid from Saudi Arabia, and the novel "The Alienation of the Outcast" by Zuhair Al-Qasimi from Oman. Congratulations to Mr. Ziyawani, the University of Adrar, Algerian, Arab, and global literature on the novel "Menna… The resurrection of the Desert's Scatters."
Written by Bouhouia imane
Translated by Mebarki FZ and Hammoudi Ichrak.